About Us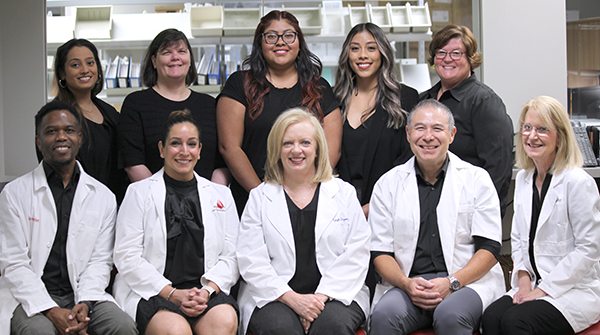 Beacon Pharmacy, a licensed retail pharmacy, specializes in distributing medications and supplies to treat inherited bleeding disorders including hemophilia and von Willebrand Disease. Beacon's professional, dedicated staff has many years of experience providing outstanding customer care.
For almost four decades, Beacon's parent organization, Hemophilia of Georgia, has built a strong reputation for serving the specialized needs of people who have bleeding disorders.
Beacon Pharmacy was founded in 2008 by Hemophilia of Georgia to be responsive to changes in the marketplace and to continue to provide comprehensive services for people in Georgia who have hemophilia and other bleeding disorders. Like Hemophilia of Georgia, Beacon Pharmacy is committed to supporting the bleeding disorder community in Georgia.
Beacon's pharmacists and staff work closely with the healthcare professionals at the Hemophilia Treatment Centers throughout the state. Together, they coordinate clients' treatment plans and ensure that clients have access to the medications and supplies they need. Beacon Pharmacy coordinates with Hemophilia of Georgia to provide outreach nursing, social work, and educational events for clients.
The Hemophilia of Georgia and Beacon pharmacies are URAC accredited, which is the gold standard for specialty pharmacy accreditation. Specialty pharmacies play an increasingly important role as a member of the patient management team. They help guide care plans to improve patient outcomes and financial outcomes. This accreditation ensures you are getting the most comprehensive care from our clinical staff as possible.
The Hemophilia of Georgia pharmacy is accredited by the Accreditation Commission for Health Care, Inc. In addition to serving clients who live in Georgia, the HoG pharmacy has licenses in Alabama, Florida, Illinois, Louisiana, Mississippi, Missouri, North Carolina, Pennsylvania, South Carolina, and Tennessee.
We do our best to make you happy. If you have any problems with our pharmacy, please contact us directly at 770-518-8272 or email pharmacy@hog.org. However, you also have the ability to report a complaint directly to one of our accrediting agencies. To report a complaint to ACHC, call 919-785-1214.

To speak to a pharmacist after hours, call 770-518-8272 or 1-877-221-6883.