Beacon

Why Choose Beacon?
Beacon Pharmacy focuses exclusively on the care and treatment of people who have hemophilia, von Willebrand Disease, or other inherited bleeding disorders.
Through a unique relationship with Hemophilia of Georgia, highly experienced outreach nurses and social workers assist and educate Beacon Pharmacy clients through in-home visits, special events, and scheduled clinic appointments.
Beacon works directly with the physicians and nurses at the state's Hemophilia Treatment Centers to coordinate and manage each Beacon client's individual treatment plan.
Case management, outreach nursing, and social work services are provided through Hemophilia of Georgia and include face-to-face education sessions and personal interaction.
Beacon Pharmacy supports the bleeding disorder community in Georgia.
Clients benefit from a high level of coordinated care between pharmacists, outreach nurses, and Hemophilia Treatment Center staff.
Medications and infusion supplies are shipped directly to clients' homes or offices.
Prices for clotting factor and other medications are competitive.
Infusion supplies and delivery are always included.
Insurance claims and paperwork are filed promptly and correctly.
Easy-to-use reminder program and online ordering keep clients from running out of factor.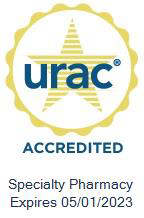 The Hemophilia of Georgia and Beacon pharmacies are URAC accredited, which is the gold standard for specialty pharmacy accreditation. Specialty pharmacies play an increasingly important role as a member of the patient management team. They help guide care plans to improve patient outcomes and financial outcomes. This accreditation ensures your are getting the most comprehensive care from our clinical staff as possible.

Beacon Pharmacy is accredited by the Accreditation Commission for Health Care, Inc. Call ACHC at 919-785-1214 to report a complaint to the pharmacy accreditation agency.
To speak to a pharmacist after hours, call 770-518-8272 or 877-221-6883.